UNIVERSAL PLUG 10X36MM X20-BAG
UNIVERSAL PLUG 10X36MM X20-BAG
Stock:

179

Model:

RAW R-S1-UNO-10-20

Weight:

0.04kg

Dim:

84.00mm x 14.00mm x 28.00mm

UPC:

5906675095516
RAWLPLUG
UNO Universal Wall Plug 10mm x 36mm
Qty: 20 |Bag

Truly universal plug which fixes into any base material, solid or hollow with unique expands at the top giving instant grip.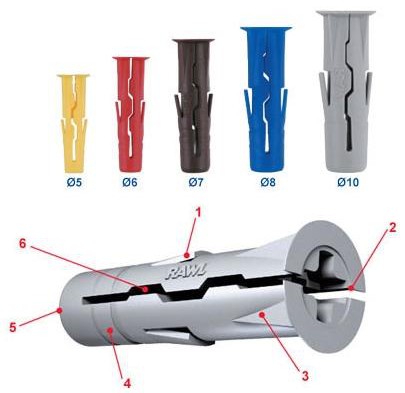 Special wings prevent pin loss.
Break at the top gives an immediate extension of the grip and tightness.
Special tabs provide stability of the pin in the hole.
Notches of sufficient length to ensure the maintenance of the material.
Central exit of the screw ensures uniform spreading of the pin and maintaining the material.
Unique zigzag shape provides a perfect extension.
Installation guide
Drill a hole of required diameter.
Insert UNO plug into hole and tap home.
Insert screw of required diameter into plug through fixture and tighten.
Features and benefits:
Recommended for unknown substrates and exploited holes.
Short length enables successful use in thin walls.
Unique geometry guarantees maximum expansion and grip.
100% assurance of proper anchoring derived from unique split design of the plug in it&s top part.
Anti-rotation features prevent spinning in the hole.
Lip prevents plug slipping into over-sized holes.
Applications
Suspended ceilings
Shelves
Electrical fittings
Cable trays
Boilers
Radiators
Lighting
Bathroom fittings
Base materials
Approved use in:
Concrete
Solid Brick
Solid Sand-lime Brick
Vertically-perforated clay block
Hollow Sand-lime Brick
Aerated Concrete Block
Plasterboard
| | |
| --- | --- |
| Description | Spec |
| Part No: | R-S1-UNO-10/20 |
| Fixing Diameter | 10 mm |
| Hole Diameter in substrate | 10 mm |
| Hole Depth in substrate | 46 mm |
| Installation Depth | 36 mm |
| Quantity per bag | 20 |
| Barcode | 5906675095516 |

Rawlplug&s UNO Universal Wall Plug