ENERGIZER MAX AA - 6 PACK (MOQ 12)
Brand:
ENERGIZER
Product Code:
E300162101
Barcode:
8888021200188
Availability:
553
Recommended Price: R133.70
Excluding VAT: R116.26
Energizer - MAX AA Batteries
Size: AA
Qty: 6 Pack
Application: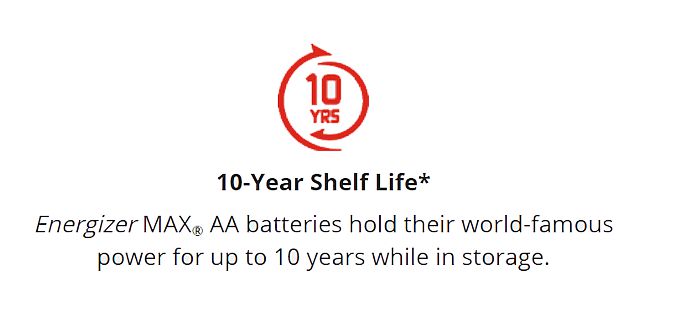 The Energizer MAX® family is all about long-lasting power. The AA and AAA sizes are now our #1 longest-lasting MAX™ batteries. They also hold their power for up to 10 years while in storage, so you have power for the devices you love when you need it most. So when it comes to toys, digital cameras and other valuable devices, you can feel confident knowing you have the long-lasting power and protection you'd expect from Energizer®. Energizer is the maker of the 1st* zero mercury AA alkaline battery.
Our # 1 longest-lasting MAX™ thanks to new improvements
Designed to protect against damaging leaks for up to two years after fully used
Hold power for up to 10 years in storage
From the makers of the world's 1st* Zero Mercury AA Alkaline Battery: Energizer is an industry leader in powering people's lives responsibly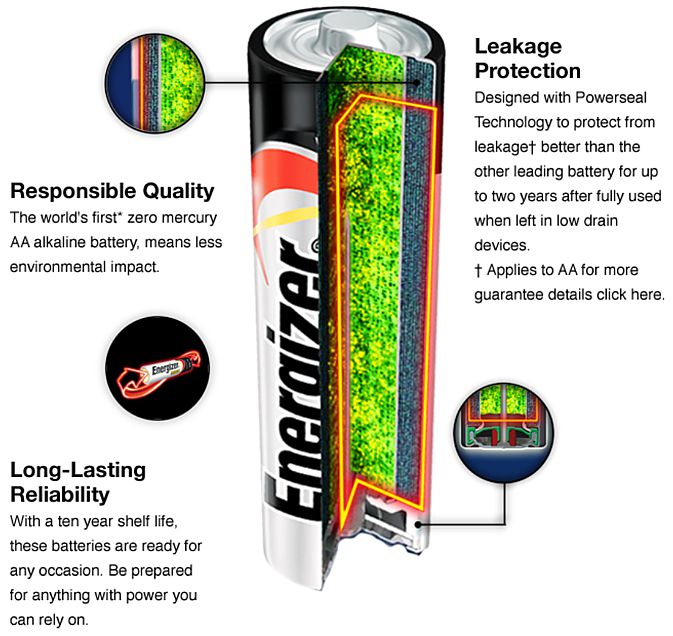 WARNING:
KEEP OUT OF REACH OF CHILDREN Swallowing may lead to serious injury or death in as little as 2 hours due to chemical burns and potential perforation of the esophagus. Immediately see a doctor, have a doctor phone one the following Emergency Numbers (For RSA) *Poison Information Centre - 086 155 5777 - *Ambulance - 10177. Keep in original package until ready to use. Dispose of used batteries immediately. Risk of injury due to fire, explosion or leakage. Do not disassemble, charge, crush or expose to fire or high temperatures.
Specifications
| | |
| --- | --- |
| Description | Specifications |
| Classification | Alkaline |
| Chemical System | Zinc-Manganese Dioxide (Zn/MnO2) |
| Designation | ANSI-15A, IEC-LR6 |
| Norminal Voltage | 1.5 Volts |
| Normal IR | 150 to 300 milliohms (fresh) |
| Typical Weight | 23.0 grams (0.08 oz.) |
| Typical Volume | 8.1 cubic centimeters (0.5 cubic inch) |
| Max Rev Charge | 1 microampere |
| Jacket | Plastic Label |
| Shelf Life | 10 years at 21°C |
| Terminal | Flat contact |
Safety
Battery Recycling
We believe in the power of recycling.
It used to be thought that the notion of recycling was just a trend. Today, the Earth is a smarter, cleaner place, thanks to committed recycling of paper products, plastics, glass and metals. We're all making a real difference to help the planet in a lot of little ways that add up to big impact.
What about recycling batteries?
The recycling of batteries is steadily growing as a consumer habit. More than 5.7 million pounds of batteries were recycled in the first seven months of 2015*, a strong indicator that battery recycling will increase for its 19th year in a row.
Energizer® continues to lead the charge
Energizer® has a history of industry "firsts", but lately we're most proud of our Energizer Recharge® batteries. By combining innovation and environmental stewardship, our Energizer Recharge® became the first rechargeable to also contain recycled batteries. This innovation represents another step in our journey to bring performance and responsibility to the world.
Change Your Clock, Change Your Batteries™!
Be prepared
Every fall, Energizer works to remind people of the simple, life-saving habit of changing and testing the batteries in smoke alarms and carbon monoxide detectors when setting the clocks back for daylight saving time.
The National Fire Protection Association reports that 71% of smoke alarms which failed to operate had missing, disconnected or dead batteries. This reinforces how important it is to take this time each year to check smoke and carbon monoxide detectors. Energizer would like to remind you of the importance of batteries not only in smoke alarms, but also the full range of devices that help keep us safe, secure and comfortable in our homes.
Home safety and security has evolved beyond smoke and carbon monoxide detectors. Many families rely on other home devices connected to the Internet or their smartphones, also known as the Internet of Things, to enhance safety and security. Energizer provides smart energy for smart devices with battery options across our portfolio that power these connected home devices.
Energizer is committed to educating you about home safety. Partnering with retailers and fire stations across the country, we want to remind you to change your batteries in all of your connected home devices when you change your clocks back for Daylight Saving Time.
Coin Lithium Battery Safety
Preventing Coin Lithium Battery Injury:
Household electronics are smaller than ever. While devices such as mini remote controls, car key fobs and flameless candles are convenient and portable, they also pose an often unknown risk to young children. Many contain coin lithium batteries that can cause serious injury when swallowed. Children age 4 and under are at greatest risk.
If a coin lithium battery becomes stuck in the esophagus, while there may not be immediate symptoms, a chemical reaction can cause it to burn through the tissue in as little as two hours. Repair often requires multiple surgeries and ongoing medical care.
If you know or suspect that a child has swallowed a coin lithium battery, go to the emergency room immediately.
Protect your Child from Swallowing Lithium Batteries
What Parents and Caregivers can do
Learn the facts

Know which devices use coin lithium batteries.
Learn the symptoms of coin lithium battery ingestion, such as coughing, drooling and discomfort.

Reduce the risk

Check your home for loose or spare coin lithium batteries and devices that use them. Lock them away from kids.
When purchasing new coin lithium batteries, choose batteries in packaging that requires scissors to open.
Tell family and friends about the risk. Share our coin lithium battery safety fact sheet and other videos with them.

Get help fast

Tell doctors and nurses it might be a coin lithium battery.
Give the medical team the identification number from the battery's package if possible.
Do not let the child eat or drink until an X-ray determines if a battery is present.
Do not induce vomiting.

Download the user manual: Download