FELO 057 MIN.RATCHET SET 18PCS BIT/SOCK. 1/4" STRONGBOX
Brand:
FELO
Product Code:
FEL05771806
Barcode:
4007157615619
Availability:
8
Recommended Price: R1,631.05
Excluding VAT: R1,418.30
Mini Ratchet Set - 18 Piece
---
Mini Ratchet Set - 18 Piece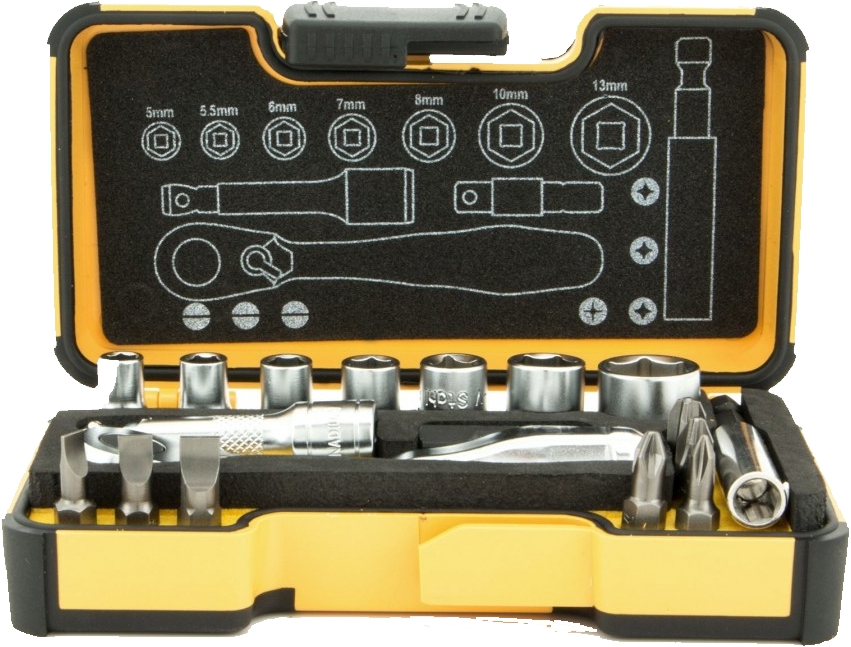 A unique, pocket kit for work in a confined space. The ratchet, made of chrome vanadium steel, has a reinforced mechanism and a slightly curved handle for more comfortable finger protection. Direct fixation of the bit allows you to work in hard-to-reach places. The nozzles are made of high-quality steels that exceed the ISO and DIN requirements by almost 100%. The Felo 05771806 consists of: a 1/4 "ratchet, 7 heads - 5mm, 5,5mm, 6mm, 7mm, 8mm, 10mm, 13mm adapter 50mm adapter 1/4". adapter with 6,3mm on 1/4 "bits - Sl 4,5х0,6 / 5,5х1,0 / 6,5х1,2, Ph1, Ph2, Ph3, Pz2.
Everything you need
Pocket sized socket set built for tough work in tight places
15º angled >65Nm high torque ratchet handle
High torque six (6) pointed sockets
One piece forged chrome vanadium ergonomically shaped handle
Screwdriver bits may be inserted directly into the ratchet handle drive for an extremely low operating height
Long lasting premium quality in every detail
Features: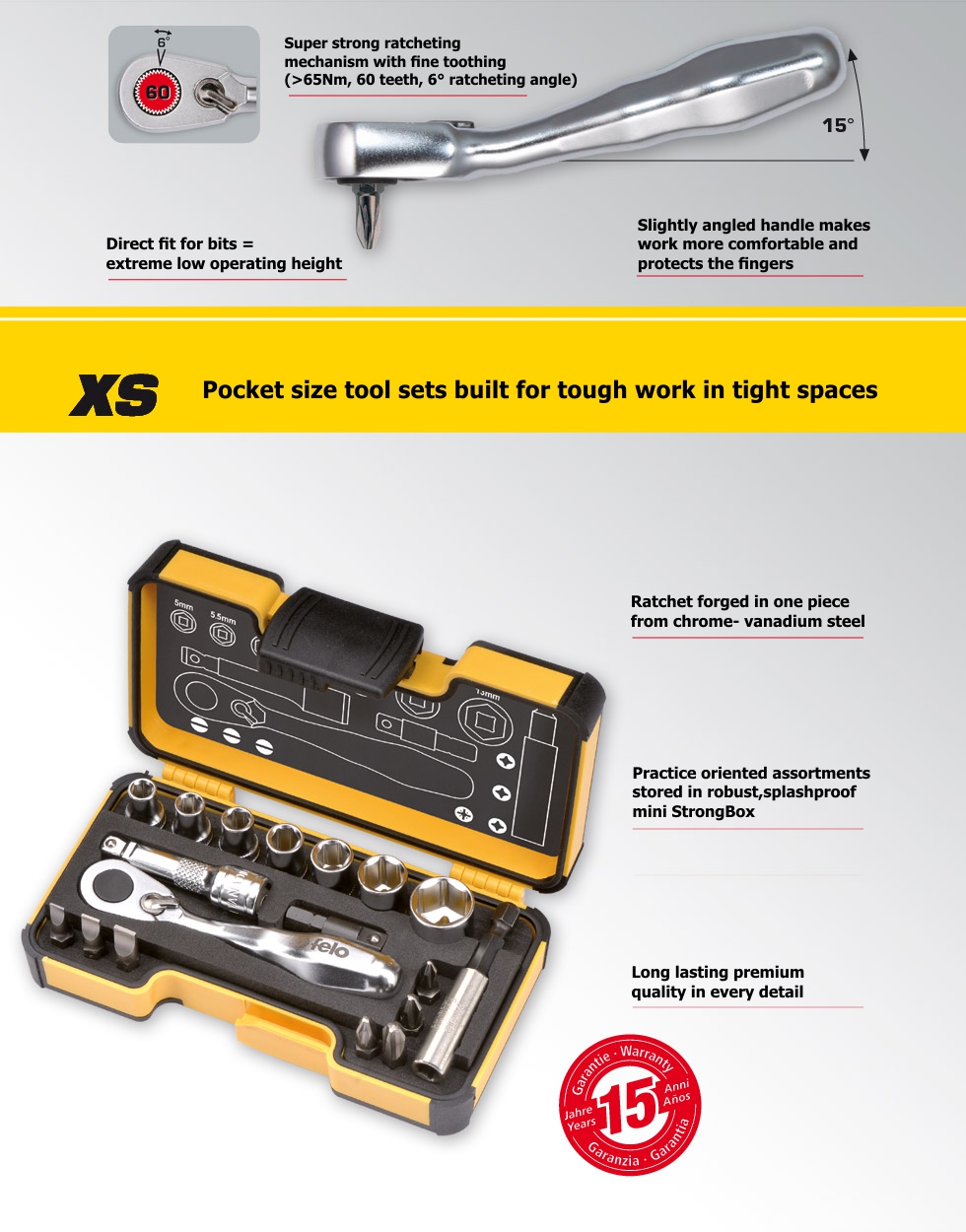 Includes:
1 x Mini 60t reversible ratchet handle ¼" x 97mm
7 x Sockets ¼" x 5.5/6/7/8/10/11/13mm
7 x Standard screwdriver bits 25mm x 4.5/5.5/6.5mm PH1/2/3 PZ2
1 x Socket Extension ¼" x 100mm with 30º angle wobble
1 x Socket Extension Adaptor ¼" x 25mm m/m
1 x Magnetic Bit Holder ¼" x 58mm
1 x Strongbox with dust seal (80 x 40 x 140mm)
Accessories

ItemNo.
Mini Ratchet
1/4"
057 635 01
Bit Holder
58
E 6,3 1/4"
038 103 90
| | | | |
| --- | --- | --- | --- |
| Accessories | | | ItemNo. |
| Adaptor | 25 | C 6,3 1/4" | 097 019 10 |
| Extension | 50 | 1/4" | 097 050 10 |
Sockets

ItemNo.
5
25
1/4"
096 050 10
5.5
25
1/4"
096 055 10
6
25
1/4"
096 060 10
7
25
1/4"
096 070 10
8
5
1/4"
096 080 10
10
25
1/4"
096 100 10
13
25
1/4"
096 130 10
Slotted Bits

ItemNo.
4.5 x 0.6
25
C 6,3 1/4"
020 400 10
5.5 x 0.8
25
C 6,3 1/4"
020 510 10
6.5 x 1.2
25
C 6,3 1/4"
020 610 10
Phillips Bits

ItemNo.
PH 1
25
C 6,3 1/4"
022 010 10
PH 2
25
C 6,3 1/4"
022 020 10
PH 3
25
C 6,3 1/4"
022 030 10
Pozi Bits

ItemNo.
PZ 2
25
C 6,3 1/4"
021 020 10