BESSEY STEEL LEVER CLAMP 120 X 60MM
Brand:
BESSEY
Product Code:
BS GH12
Barcode:
4008158034324
Availability:
56
Recommended Price: R1,122.63
Excluding VAT: R976.20
Bessey® Steel lever clamp 120 x 60mm
Order number: GH12
Lever clamp GH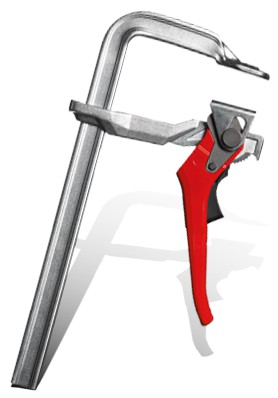 The secure ratchet mechanism ensures rapid, controlled, vibration-free clamping. A hardened cam at the end of the lever ensures a long service life.
The optimised profile ensures maximum stability when greater clamping force is required – especially under full utilisation of clamping width. The moulded pressure plate is hardened, tempered and galvanised to be highly durable and torsion resistant.
The powder-coated clamping lever has a particularly ergonomic shape. The plastic-coated non-slip release lever provides a secure hold as you release the clamp.

Bessey® Steel lever clamp 120 x 60mm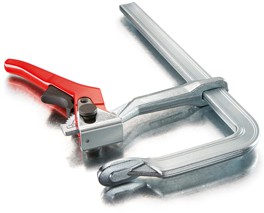 Optimised rail profile for even clamping force, especially under maximum clamping range
Non-slip trigger release
Quick - up to x5 faster than regular clamps
Secure - vibration resistant
Strong - clamping force up to 8,500 N
Bessey® Steel lever clamp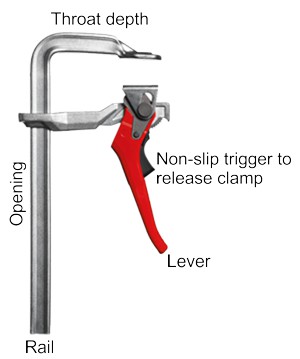 Bessey® Steel lever clamp
| | | | | |
| --- | --- | --- | --- | --- |
| Order number | Opening (mm) | Throat (mm) | Rail(mm) | Weight (kg) |
| GH12 | 120 | 60 | 15.0 x 6 | 0.49 |
| GH16 | 160 | 80 | 17.5 x 6.8 | 0.64 |
| GH20 | 200 | 100 | 22.0 x 8.5 | 1.11 |
| GH25 | 250 | 120 | 24.5 x 9.5 | 1.44 |
| GH30 | 300 | 140 | 28.0 x 11 | 1.51 |
| GH40-12 | 400 | 120 | 24.5 x 9.5 | 1.67 |
| GH40 | 400 | 120 | 28.0 x 11 | 2.41 |
| GH50 | 500 | 120 | 28.0 x 11 | 2.61 |
| GH60 | 600 | 120 | 28.0 x 11 | 2.78 |
| GH80 | 800 | 120 | 28.0 x 11 | 3.14 |
| GH100 | 1000 | 120 | 28.0 x 11 | 3.59 |
Bessey® Steel lever clamp