AIR BRUSH KIT 0.2 0.3 0.5MM NOZZLES WITH 1.8M AIR HOSE
Brand:
AIRCRAFT
Product Code:
SG A130K
Barcode:
6009515818401
Availability:
186
Recommended Price: R746.35
Excluding VAT: R649.00
Gravity feed airbrush kit - 0.2, 0.3 and 0.5mm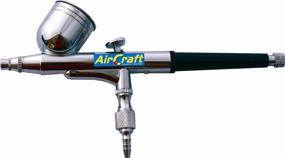 The airbrush is a small, air-operated tool that can be used to spray various media. The media can vary from paint, ink or dye by a process of atomization. Where the media is transformed into a fine controllable mist by mixing the media with compressed air.
The professional airbrush can be used for:
Body painting
Nail art
Automotive grpahics
Cake decoration
T-shirt painting
Illustrator art
Fine art
Photo retouching
Cosmetics
Model building
Figurines/miniatures
Taxidermy
Wood carving
Sign painting
Included in kit:
SG A130 Airbrush
SG AH06 hose 1.8m 1/8 x 1/4 BSP braided hose
0.2mm fluid tip and needle
0.3mm fluid tip and needle
0.5mm fluid tip and needle
Wrench/spanner
Eye dropper to add media to the airbrush
Features: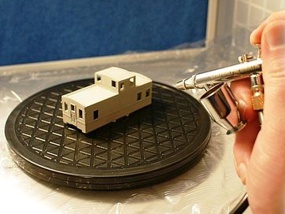 Body made from nickel plated brass
Small size, comfortable and easy to control
High detail work achievable
Description
Specification
Working pressure
15-50 Psi (1 Bar - 3.45 Bar)
Cup capacity
7ml
Feed type
Gravity feed
Internal or External mix
Internal mix
Single or double action
Double action
Thread
1/8 BSP
Nozzle/Needle
Ø 0.2mm
Ø 0.3mm
Ø 0.5mm