PROMO 34CM MOWER & TRIMMER 2 X 20V 2.0AH DUAL CHARGER WG779E/ WG157E
Brand:
WORX
Product Code:
WRX WG927E
Barcode:
6924328316800
Availability:
4
Recommended Price: R7,243.85
Excluding VAT: R6,299.00
The ultimate lawn maintenance kit
WORX WG779 Power Share 14" Lawn Mower and WG157E Trimmer Kit
Let's start with the lawnmower
This sleek, 14-inch (355mm) 40V Lawn Mower with Intellicut and Mulching Capabilities is packed with technology and doesn't skimp on power. With two of our 20V 2.0 Ah batteries giving it 40V, you get double the runtime and double the efficiency. Intellicut is our patented torque tech that lets you dial up the power when you get into thicker grass and then dial it back down to conserve battery when the grass gets easier to manage. It's a powerful but energy-efficient mower. And that's just where the benefits start.
Gas-powered mowers are messy, costly, and can wake up the whole block. Worx battery-powered machines are clean, both to operate and for the environment, and cost-effective because electricity costs less than gas. They're also much quieter by comparison, and start with the touch of a button, not the repeated yank of a cord.
This mower weighs in at only 13kg and has a 35cm (14") cutting deck that's easy to zip around landscaped features, yet wide enough to cut down on the passes you'll have to make on your lawn. The 6-positon cutting height ranges from 6,35cm up to 8,9cm (2.5"- 3.5"). The 2Ah batteries give you up to 250 sqm cut on a single charge. It's a better mower for today, tomorrow, and years to come.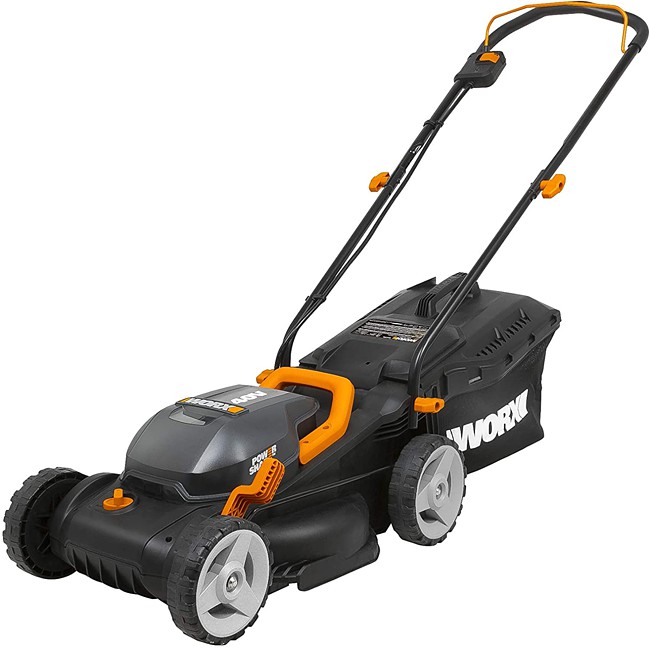 Let's look at the Trimmer
The WORX WG157E Cordless Grass Trimmer is both a trimmer and edger in one tool! This lightweight tool easily converts from a trimmer to walk behind edger in seconds, without the need for tools. The WORX WG157E functions with a single line auto feed system allowing for easy use, fast trimming and longer running time.
The WG157E has also been designed with a long shaft allowing ease when trimming awkward or hard to reach areas plus its 25cm cutting diameter will meet all your garden needs. Plus with the built in Flower Guard you do not have to worry about causing damage to your flowers or ornamental lawn fixtures. Thanks to the Power Share battery platform this will allow you to interchange your batteries with your other 20V WORX tools.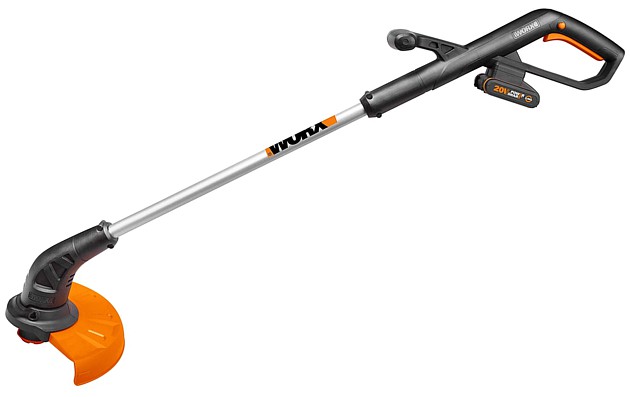 Included:
(x2) 20V Batteries
(x1) Dual port charger
(x1) WG779E 34cm 20V Dual Battery Cordless Lawnmower
(x1) WG157E 20V Cordless Grass Trimmer
Features WORX WG779 Lawnmower
[6 HEIGHT ADJUSTMENTS] A single lever lets you set the height you want to cut your lawn, depending on the season, or just your preference
[INTELLICUT] feature provides torque on demand for tougher conditions
[SAME BATTERY, EXPANDABLE POWER] Worx Power Share is compatible with all Worx 20v and 40v tools, outdoor power and lifestyle products
[MULCH OR BAG] This 2-in-1 mower lets you bag it up, or mulch your grass back into the ground, it's up to you
[BATTERY METER] The on-board battery charge indicator lets you know exactly how much juice you have left before you need to head back to the garage
[FULL-BAG INDICATOR] The plastic-topped collection bag has a capacity of .85 bushels, and the full-bag indicator lets you know when it's time to empty out
[DUAL-PORT CHARGER] This mower runs on two batteries at a time, so we threw in a dual-port charger so you can fill them both back up faster
[INCLUDES] 40V Mower, Two 20V 2.0Ah Batteries, 2A Dual-Charger, .85 Bushel Collection Bag, Mulch Plug
Features WORX WG157W Grass Trimmer
Convert trimmer easily to an edger and vise-versa in seconds
Convert the cutting path for a wider cut or extended run time
Fixed ergonomic front handle for maximum control
100% automatic single line feed for best cutting performance
Rotating head for easy edger conversion
Specification Lawnmower WG779E
| | |
| --- | --- |
| Specification | Value |
| MAX CUT AREA/CHARGE | 465m2 | 5,000 FT2 |
| RATED VOLTAGE | 40V (2X20V MAX) |
| DECK WIDTH | 355mm | 14" |
| CUTTING DIAMETER | 330mm | 13" |
| CUT HEIGHT RANGE | 6.35cm up to 8.9cm (2.5"- 3.5") |
| GRASS BAG CAPACITY | 30 litre | 0.85 BUSHELS |
| MACHINE WEIGHT | 13.2kg | 29.1 LBS |
Specification Grass Trimmer WG157E
| | |
| --- | --- |
| Specification | Value |
| Power Source | Battrey Powered |
| Voltage | 20V Lithium Ion |
| Weight | 3.1 kg |