Our Brands A to G

The AirCraft brand is focusing on pneumatic solutions suitable for the tradesman and industry.
---

Measuring Instruments by ACCUD. The products line not only covers traditional gauges such as callipers, micrometres, dial gauges, indicators, height gauges, gauge blocks, but also covers high-technology measuring instruments like hardness testers and vision measuring machines. ACCUD products are mainly manufactured in Asia, and further selected according to strict quality criteria.
---

In 1985 Action Can launched AC-90 Multi-Purpose Lubricant onto the UK industrial market, leading to the development of an entire Action Can range. In the three decades since, the manufacturer has established themselves as one of the UK's leading manufactures of professional grade maintenance chemicals. A combined production capacity of over 20,000,000 cans per year.
Action Can "In The Right Hands It's A Power Tool!"
---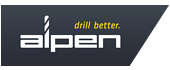 All ALPEN drill bits are produced in Austria in the most up-to-date plants to the highest quality standards under the strictest quality controls. The result is top quality. Every single item. Alpen demands the same of their production as they do of their tools: it must be efficient. It must be economical. And it must be state of the art. In order to ensure their high quality standards they keep the entire manufacturing process in-house
---

The purpose of a high quality tool is to provide a faster, easier, and less costly means of performing a task. Bondhus strives to provide not just "good" tools, but the strongest tools available anywhere.
---

Davidson Tools is a supplier of quality hand tool products. Established in 2009 with the focus on 100% customer satisfaction, professional product development and manufacturing control and support. Real Steel is a brand marketed by Davidson Tools.
---

With the Drill Doctor, you will find both home and industrial shop drill bit sharpening fast and easy. Our complete line of Drill Doctor Sharpeners offer a range of tools for hobbyists to professionals. Use the Drill Doctor to sharpen your broken and dull drill bits hundreds of times, rather than replacing them, and save money in the long run!
---

Energizer is a world leader in battery technology. The Energizer® Ultimate Lithium battery is the world's longest lasting AA battery and AAA battery in cameras, MP3 players and other high tech devices. Energizer® Rechargeable batteries come in AA, AAA, 9V, C and D cell battery sizes, ensuring that you have plenty of power ready to work hard for you. Energizer® Advanced battery comes in AA and AAA batteries deliver more power for your gaming and music devices. And Energizer® MAX® alkaline batteries deliver dependable performance for everyday use devices including toys and your Energizer® flashlight. Energizer Batteries – Keep Going
---

In 1950 Felo Werkzeug­fabrik was founded in Neustadt (Hessen), Germany. Driven by innovation, quality consciousness and enthusiasm, the company grew from its humble beginnings with 2 employees into one of the leading manufacturers of screwdrivers and bits, employing over 200 employees. Over 60 Years of excellence!
---

Festool is world renowned for manufacturing power tools for the toughest demands. Quality and durability is found deep in Festool's roots. With the company's headquarters based in Wendlingen, Germany, the brand has earned many highly regarded award prizes for design and innovation. Truly a trusted and quality product among many craftsmen around the world. Fans of the brand call themselves Festool Junkies. Vermont Sales is the official partner of Festool for Southern Africa.
---

The name says it all. "There is a bit of handyman in all of us..." Fixman is a new range of presentable, quality and affordable hand-tools that was first introduced to Australia in September 2012. The range is comprehensive and is designed to suit the DIYer or Home Handyman. You will notice the difference when you see the Fixman range.
---

Manufacturing excellence since 1974 from Europe. Probably one of the best solutions for sanding pads, backing pads and polishing. The range of products is extensive and well made. Imported from the UK.
---

GAV of Brendola (VI) have been producing pipe fittings and accessories for compressed air and spray guns since 1974. An extensive range of pipe fittings, ball valves, joints, pipes and a wide range of accessories all made in Italy. The GAV product range is well known throughout South Africa and used in many factories around the country. Al spare parts for the product range is locally available from Vermont Sales.
---