DRILL DOCTOR SHARPENER 2.5-13MM W/GRIND ATT.IN PLASTIC CASE
Brand:
DRILL DOCTOR
Product Code:
DD500XB
Barcode:
662949037617
Availability:
2
Recommended Price: R3,678.85
Excluding VAT: R3,199.00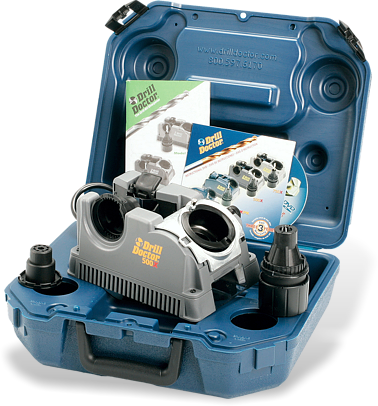 Drill Doctor Model 500X
The DD500X shop model is designed for durability and has the flexibility required to sharpen the largest range and most popular sizes of dull or broken bits-including split points and masonry bits. Increase capacity with optional 19mm chuck accessory
At a glance.
User replaceable diamond sharpening wheel design for simple replacement
One piece alignment system improves precision, and adjustability
Longer jaws hold bit more precisely and jaw guides eliminate jaw twisting on small bits
Cast aluminum point angle shuttle for added durability
For the serious drill bit user – DIY, hobbyist, and professional
Sharpens 2.4mm – 13mm drill bits
Sharpens High-speed Steel, Carbide, TiN-coated and Masonry bits
Sharpens both 118 degree and 135 degree point angles
Can sharpen 2.4mm – 13mm reverse-twist (left-hand) drill bits with optional accessory (special order only)
A workshop serious about sharp drill bits!
Ideal for the workshop. Durability and flexibility is key factors. Will accomodate a large range of the common sizes used.
Specification
Spec Value
Motor speed:
15,000 RPM
Capacity:
2.4mm – 13mm Capacity -
19mm accessory available
Sharpening angles:
Set at standard 118° and 135°
Drill Bit Materials:
High-Speed Steel,
Carbide, Cobalt,
TiN-Coated,
Carbide-Tipped Masonry
Body:
Tool-Grade Plastic Casing -
Double Insulated and Impact Resistant
Power:
220V 1.8M Power Cord
Warranty
1 Year Full Manufacturers Warranty
Origin
Assembled In The USA
Weight:
2.6kg

Download the user manual: Download
Drill Doctor Model 500X and 750X Drill Sharpeners