ALPEN MULTICUT DRILL BIT SET 3 PIECE HEX SHANK 5 6 8MM
Brand:
ALPEN
Product Code:
ALP ATM3
Barcode:
9002741028917
Availability:
Out Of Stock
Recommended Price: R403.08
Excluding VAT: R350.50
New Stock Expected:
02/06/2020
02/06/2020
02/06/2020
07/08/2020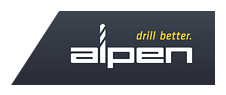 3 Piece Tungsten carbide multi purpose set - Profi Multicut
A neatly packaged drill bit set in a plastic case. Manufactured in Austria. Alpen drill bits are recognised for their quality and performance. Great flexibility and precise drill holes – even with constant change to drilling into different materials.

Range of application:
Extremely versatile and precise drilling – even with changing drills in various materials. For precision rotary drilling in tiles, natural stone, metal, wood and plastics.
For rotary drilling into:
- tiles
- masonry
- metal
- wood
- plastic
Art.-Nr. 00 00100803100
Strengths
FOR METAL
thanks to all diamond ground cutting edges
FOR MASONRY
thanks to 4-stage profile for fast bore-dust removal

For rotary drilling into:


tiles
masonry
metall
wood
plastic
Specifications
Drill diameter
Spec
5mm | 6mm | 8mm
TCT
Shank Type
Hexagonal