OLFA KNIFE INCOPORATING SNAP OFF BLADE DISPENSER SNAP OFF TYPE 18mm
Brand:
OLFA
Product Code:
CTR DL1
Barcode:
091511200515
Availability:
127
Recommended Price: R125.01
Excluding VAT: R108.70
Olfa SNAP It 'N' TRAP It™ DL-1
OLFA® SNAP It 'N' TRAP It™ Auto-Lock Utility Knife
Cat no: DL-1

The OLFA Snap it 'N Trap it 18mm utility knife is an innovative new heavy-duty utility knife - designed for productivity and convenience. Includes a professional strength carbon tool steel snap blade and handy blade snapper / storage container built right into the impact resistant ABS handle, so you can access a sharp new edge wherever you are, whenever you need it.

With the OLFA® SNAP it 'N' TRAP it™ utility knife, you can remove dull blade edges easily and safely. Simply slide the blade disposal container off the knife, insert the dull blade into the end of the container and snap it off. The old blade disappears into the container, and a sharp new blade is ready for use.
Good For: Applications such as flooring, drywall and roofing repair or replacment. Cuts carpeting, linoleum, drywall, roofing shingles and more.
DETAILS
Ratchet-lock mechanism
High-impact ABS handle
Built-in blade snapper and disposal container
Stainless steel blade channel
No tool blade change
Preloaded with an LB silver snap-off blade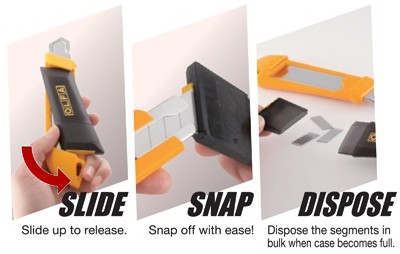 Description
Specification
Blade Size
18 mm
Packaging
Blister Packed
Model
DL-1
Lock
Ratchet-lock mechanism
Features
Built-in blade snapper and disposal container
Stainless steel blade channel
Preloaded with an LB silver snap-off blade
Blade Compatibility
LBB-5B
LSOL-10B
LB-5B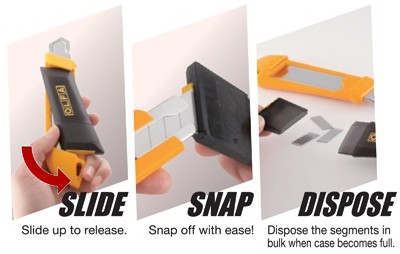 OLFA DL-1
OLFA DL-1 - extra video