LOCK MORTICER WITH 18MM & 22MM CUTTERS IN PLASTIC CASE SCREW TYPE
Brand:
SOUBER TOOLS
Product Code:
ST JIG 1C
Barcode:
5060082785818
Availability:
76
Recommended Price: R3,646.48
Excluding VAT: R3,170.85
DBB Morticer Set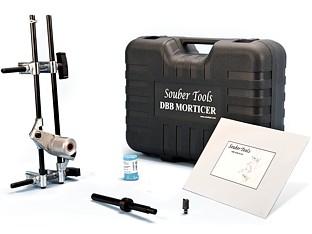 The DBB Morticer, manufactured by Souber Tools, produces a perfect lock recess every time. It is a genuine 5 minute morticer which is acclaimed by locksmiths and builders alike. For anyone who regularly fits mortice locks it will prove invaluable - an accurate, speedy and professional tool that will save time and money.
Standard Morticer Set complete with:
One wood cutter
plastic carrying case
Instruction Manual
Standard shaft (for locks up to 100mm)
Customers kindly note: The kit includes only ONE 18mm cutter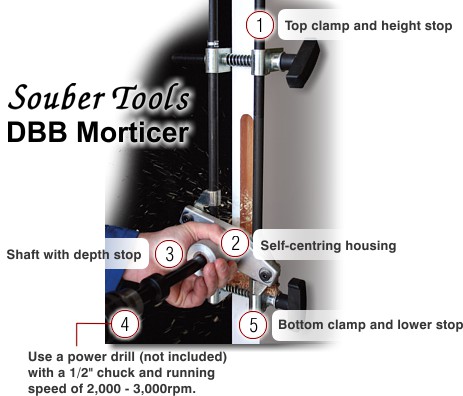 Features of the DBB Morticer
Cuts a mortice for the body and for the face plate.
Fast and accurate on doors from 30mm - 85mm thick
Can cut door hinges and also some strike plates and electric releases.
includes faster carbide cutters for wood morticing.
Uses vertical guides, height and depth stops to ensure you do not overrun the cut area.
Wide range of accessories and special attachments.
All parts are replaceable.
Robust construction and precision manufacture.
Supplied complete with operating manual and plastic carry case.
Plunging cutters now available.
Benefits of the DBB Morticer
Saves time and money
Increases accuracy and speed of mortice cutting
Can be used on wooden or (with special cutters) aluminium doors
The self-centring jig cuts marking-up time.
Only requires a power drill to work
Dependable and reliable
All parts are replaceable
Frequently Asked Questions
Q: What is included in the price of the DBB Morticer?
A: Every DBB Morticer Kit comes in a heavy duty case, the jig of your choice, self centring or adjustable stops, drive shaft, one 18mmwood cutter and an instruction manual.
Q: Are there any additional and special accessories for the DBB morticer?
A: Yes. We provide spare parts for each individual piece of the Morticer - see our section on Spare Parts for the full list of our off-the-shelf replacement parts.
Q: Are there any instructions with the DBB Morticer?
A: Yes. We provide a comprehensive instruction manual that is complete with illustrations and written instructions. It is an easy to follow guide for either the novice or for the experienced professional.
Q: What cutters come with the Jig?
A: One wood cutter. Ask your supplier for precise details and other options.
Q: What are the cutters made from?
A: Mortice wood cutters are carbide tipped. Plunging and aluminium cutters are HSS.
Q: Can the wood cutters be re-sharpened?
A: Yes. The instruction manual provides advice and instructions on sharpening.
Q: Can I plunge with the wood cutters
A: Yes, four (4) sizes of plunging cutters are now available.
Q: How deep can the Jig cut?
A: 90mm with the Standard shaft (100mm without depth stop)
170mm with the Long shaft (180mm without depth stop)
Longer shafts are available as a special order.
Q: What is the bearing system?
A: These are sintered bronze bushes impregnated with oil
Q: How long do the bearings last?
A: Typically, they will last 2-300 lock installations
Q: Are replacement bushes available?
A: They are available, but require specialist equipment to replace. We suggest ordering a housing kit instead which comes pre-assembled and takes just a minute to change over.
Q: What thickness of door will the jig suit?
A: Standard morticers will suit doors up to 55mm thick. For doors 55mm+ use the DBB/HK/S
Offset Morticers will suit doors up to 95mm thick, but this jig is not self- centring!
Q: Will the jig work on aluminium?
A: Yes, there are 4 cutters for aluminium doors. See the leaflet for precise details.
Q: Do you have cutters for steel doors?
A: No, not at present, but we have plans to develop some.
Q: Do I have to keep re-setting the jig when I take it off the door?
A: If the locks and door thicknesses are the same, you can use the tube clip at the top to create a 'datum' for repeat work. Simply slide the clip down to the top clamp. This will enable the user to cut identical holes without any re-setting.
Q: Does the Jig come with a drilling machine?
A: No, you have to provide your own.
Q: Is there a recommended Drill specification?
A: 800 Watt, 13mm (1/2") Chuck and 2-3000 rpm is an ideal drill, but not SDS. Impact/hammer must be set to 'off'.
Q: Can the jig be used to install electric locks?
A: Yes,there are two (2) long drills and a long drill adapter to drill through the door for lock cables.
Q: How do I prevent the knots in doors forcing the long drill off-line?
A: Both Long Drills use special geometry so that it wants to stay on line. Our instructions explain how to keep the drill central.
Technical Data
Please note that some of the items mentioned in the specifications below is not included in the the set and can be purchased separately.
| | |
| --- | --- |
| Drill requirements | 13mm (1/2") Chuck, recommended speed 2,000 - 3,000rpm |
| Standard shaft depth | 90mm (100mm without stop) |
| Long shaft depth | 170mm (180mm without stop) |
| Door thickness Standard Morticer | max opening 55mm |
| Door thickness Standard Morticer with DBB/HK/S Special Housing | max opening 80mm |
| Door and Frame Width Offset Morticer | max opening 95mm |
consider safety for your health and the people around you

General safety suggestions:

It is advisable to always have the following items nearby and in a good condition

Eye protection – clean and scratch free
Hearing protection – quality earmuffs
Dust masks – discard old and dirty masks
Gloves – for easy handling of material and hand protection

Wear Gloves

Eye Protection

Hearing Protection

Dust Mask
General morticing with a Souber DBB Morticer
Fitting an off-centre lock
Fitting a lock to alluminium doors
Fitting an Electric Release on an Aluminium Frame
Electric lock installation
Fitting the new Powermatic Door Closer