HOLE SAW DIAMOND 35MM
Brand:
TORK CRAFT
Product Code:
TC29035
Barcode:
6009515800352
Availability:
45
Recommended Price: R472.42
Excluding VAT: R410.80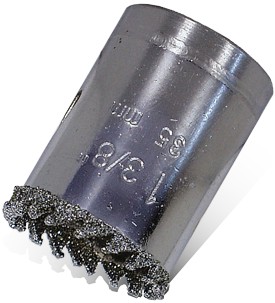 Diameter: Ø35mm
Mandrel to use: TC17007-3
Working length: 38mm
Application:
The hole saw is made from a tough steel body covered in a chrome finish. The cutting edge is covered with a permanently bonded electro plated diamond grit coating.
The diamond grit hole saw can be used to cut:
Bricks
Roof tiles
Slate
Ceramics
Tiles
Marble/Granite
Reinforced plastics
Glass resins
Asbestos
IMPORTANT:
Do not use the diamond grit hole saw with percussion (hammer action). Allow the diamond coating to cut the material with minimum pressure. Rotation speed should not exceed 300 rpm.
TIP:
Regularly (every 1 to 2 minutes of use) rinse and cool the diamond grit holesaw in a container of water. This will extend the life of the hole saw. The maximum permissible temperature of a diamond tip is 500°C.
consider safety for your health and the people around you

General safety suggestions:

It is advisable to always have the following items nearby and in a good condition

Eye protection – clean and scratch free
Hearing protection – quality earmuffs
Dust masks – discard old and dirty masks
Gloves – for easy handling of material and hand protection

Wear Gloves

Eye Protection

Hearing Protection

Dust Mask