ONE-HANDED CLAMP EZS 600/80
Brand:
BESSEY
Product Code:
BS EZS60-8
Barcode:
4008158034614
Availability:
14
Recommended Price: R1,102.51
Excluding VAT: R958.70
Bessey® One-handed clamp EZS 600 x 80mm
Order number: EZS60-8
One-handed clamp EZS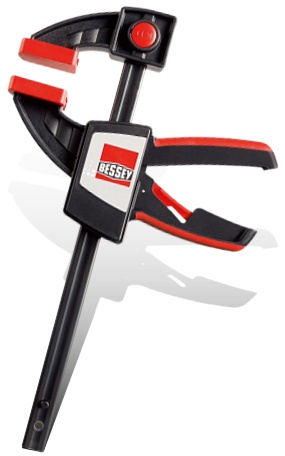 The extremely sophisticated technology makes it possible – single-handed clamping and spreading of workpieces with up to 2,000 N clamping force.
Thanks to the intelligent release mechanism, the upper section can be quickly converted from clamping to spreading without the need for tools.
The ergonomically shaped 2-component plastic handle with pump lever is positioned behind the rail, enabling a powerful grip.
The protective caps on the clamping surfaces guarantee material protection and secure clamping.


Bessey® One-handed clamp EZS
Clamping force up to 2,000 N
No tools required for spreading thanks to intelligent release mechanism in upper section
Ergonomically shaped 2-component plastic handle behind the rail
On carded hang pack
Bessey® One-handed clamp EZS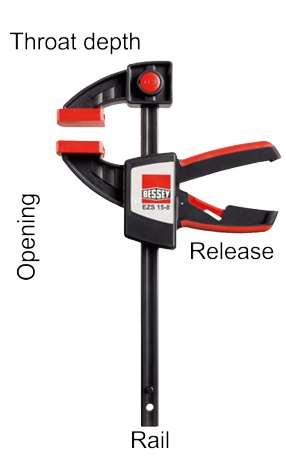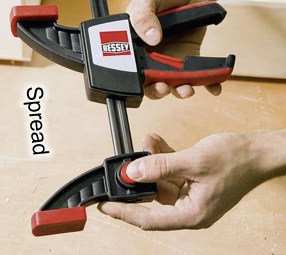 Bessey® One-handed clamp EZS
| | | | | | |
| --- | --- | --- | --- | --- | --- |
| Order number | Opening (mm) | Throat (mm) | Spread (mm) | Rail(mm) | Weight (kg) |
| EZS15-8 | 150 | 80 | 170-360 | 19 x 6 | 0.72 |
| EZS30-8 | 300 | 80 | 170-510 | 19 x 6 | 0.83 |
| EZS45-8 | 450 | 80 | 170-660 | 19 x 6 | 0.93 |
| EZS60-8 | 600 | 80 | 170-810 | 19 x 6 | 1.04 |
| EZS90-8 | 900 | 80 | 170-1110 | 19 x 6 | 1.26 |
Bessey® One-handed clamp EZS